Smart Submersible Quantum (PAR) Sensor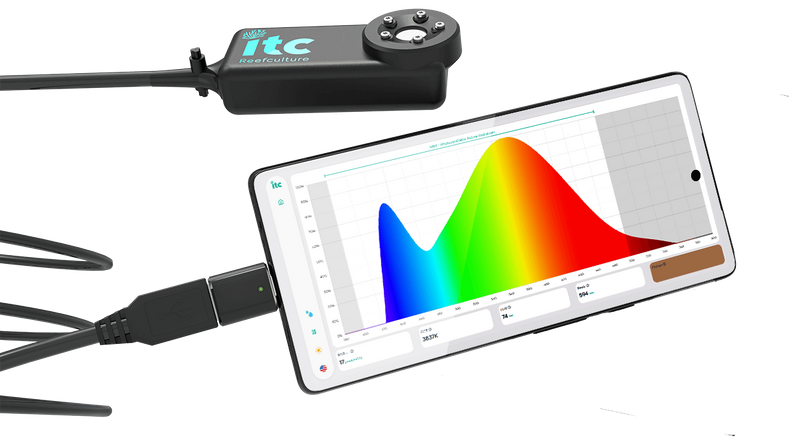 Understand your lighting
ITC Reefculture was born out of a desire to create unique and functional tools for all levels of aquarist. Tools and accessories to help us all keep our aquariums and the inhabitants in better shape. Livestock welfare is at the core of our business whether that be helping to produce tools for those who wish to spawn corals, frag them, or stop pests! PARwise is our latest tool which ends the questions of what setting should my lights be on, whether that be brightness, colour (spectrum) or photoperiod. PARwise empowers you to make the right decisions over your lighting settings and to share and discuss lighting in great depth with the aquatics community, with accuracy – whether your organism is aquatic or not!
What is it?
PARwise is a unique light meter with the ability to measure spectrum. It can be used underwater and in air. It gives you all of the relevant lighting measurements required to make informed decisions.
What it measures?
PARwise measures 'PAR' (PPFD – Photosynthetic Photon Flux Density µMol/m2/s), Kelvin (Colour temperature), LUX, Spectrum, DLI (Daily Light Integral), Peak Wavelength, Hue (as colour)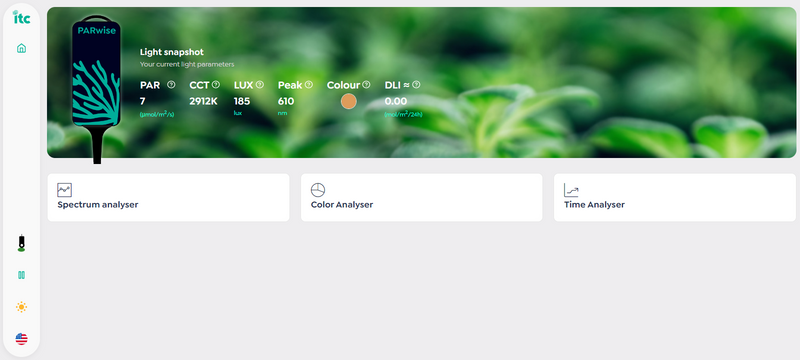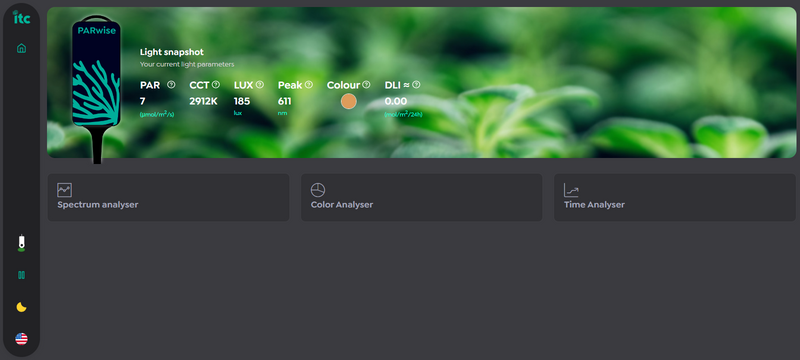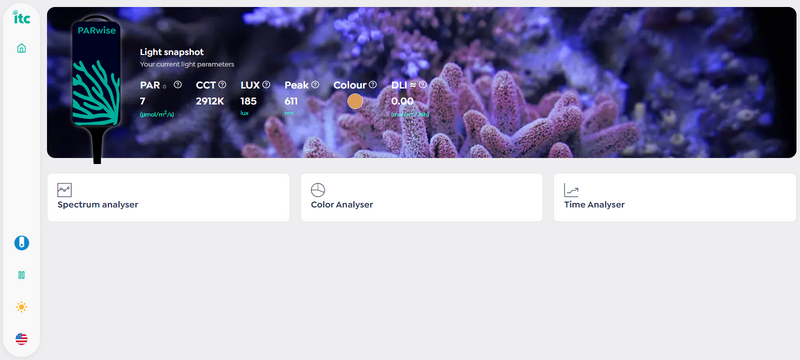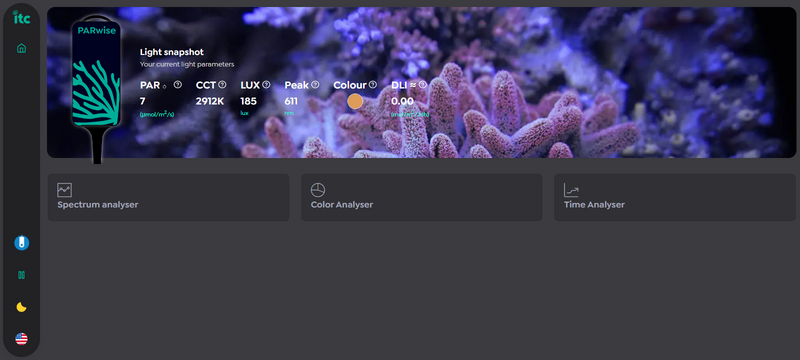 How it works?
PARwise uses our proprietary, in-house made and designed optical engine, nestled underneath a user replaceable cosine corrector to 'read' the spectral content and quantity of light that hits it. We then determine the results on-board within PARwise and send that over USB to your device to display. Our web based app automatically downloads to your device (pc, mac, android) the first time you use it to give you full offline use. We include a free USB-C adaptor to fit into android smart phones, tablets and modern computers who don't have a full size USB port. Please note, we don't yet work with iOS or iPadOS due to apple not allowing USB OTG on their mobile devices.
How to use?
Follow the user instructions to get your PARwise up and running – then simply place the sensor next to your photosynthetic organism such as a coral or plant to then take a reading. Use the on screen pause button to capture the reading in that position and reference your spectrum against a known spectral response curve, or other light setting you want to copy or tune to.
What languages are available?
Our web app currently offers English, French, German, Dutch, Italian, Portugese.
Tecnical Specification
| Specification |   |
| --- | --- |
| PAR Range | 0-6000 µMol/m2/s |
| Kelvin | 1000-10,000 Kelvin |
| LUX | 2-300000 |
| Spectrum | 380-800nm |
| Optical Measurement Type | Point light source |
| Accepted light sources | Natural, LED, Fluorescent, Incandescent, Gas Vapour, HID |
| Measurement repeatability | < 0.5% |
| Calibration Uncertainty | +- 5% |
| Directional cosine corrector | Replaceable |
| Temperature response | Auto compensating |
| Ingress Protection Rating | IP68 |
| Dimensions | 85x40x20mm |
| Device Weight | 130g |
| Outer Package Dimensions | 24.5x 15.5x5.5 cm |
| Packaged Weight | 215g |
| Factory re-calibratable |   |
Did you get one?
Start by reading the Documentation. Specifically, the chapters below should be relevant now: